If you want to sell, There are some important qualities to be a good sales person to imitate the features of those who preceded you. These are some of the most important features shared by successful sellers, from small to large companies. Whether it's selling a pair of sneakers in a store, a new heating system to owners or presenting a startup to investors, making this sale depends on knowledge, techniques and the seller's enthusiasm.
Of course, some have a natural talent for evolving in the sales market, but you can certainly develop the characteristics and skills necessary to be an efficient and effective seller.
15 essential qualities to be a good sales Person.
1. Be conscientious
This trait is found in people who are very proud of their work, who are organized and efficient. But, if you are not organized and efficient, you can learn to be. Being conscientious also means that you continue your work no matter what.
2. Be respectful
A successful sales representative understands how precious the time of his customers is. Get straight to the point of your pitch from the start. People want the bottom line, and they are busy with their work and personal obligations, so respect their schedule first !
3. Take the initiative
Commercials do not wait for orders. They are go-geters and take matters into their own hands. Being disciplined helps vendors stay on track. If something has to be sold, there is a way to do it. The seller will do whatever it takes to sell the product. Learn to better appreciate the product or to compliment it if necessary. Most essential qualities of sales Person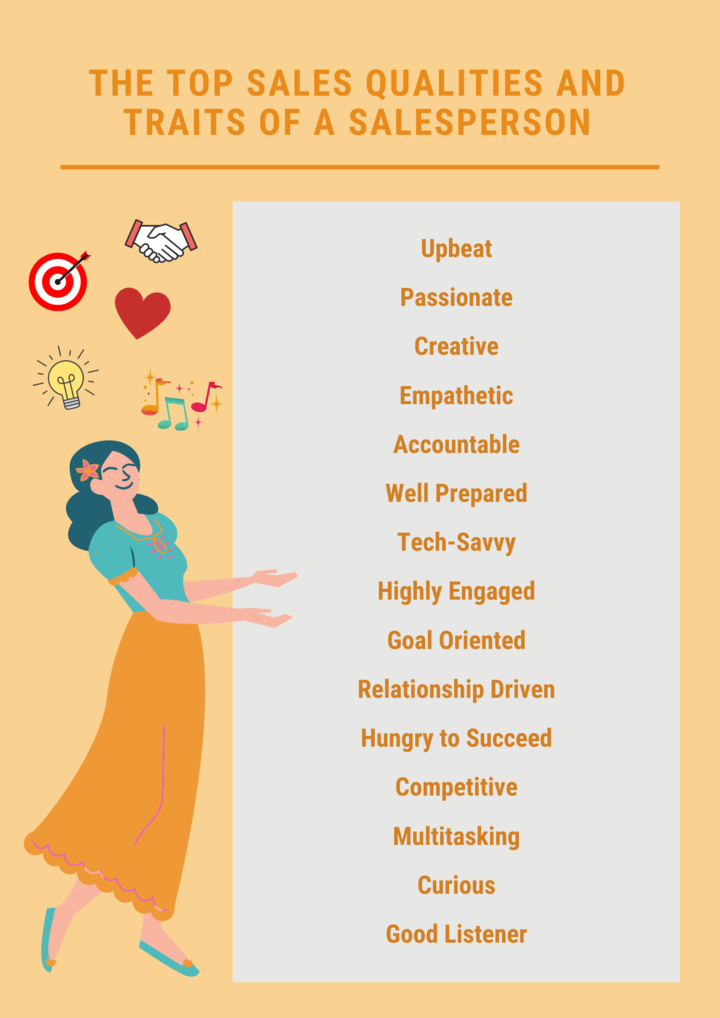 4. Be an active listener
Listening to your customers and prospects is decisive. Understanding what they want and what they need, why they need it and how to get there is paramount. If you don't know exactly how to make customer demand a concrete reality, think creatively and chat together to find a way.
5. Be persistent
You must have thick skin to be a seller because you will become very familiar with the word "no. You must have confidence and persistence if you want to stay involved in sales. Perseverance, on the other hand, does not mean crushing people – it means that you are looking for innovative solutions to the difficulties encountered.
6. Be flexible
Being energetic, learning and having the ability to adapt is all part of the flexibility of learning. If a member of your team asks to do things in a certain way, do it that way, even if it is something that you have approached differently in the past.
7. Be positive
Having a positive attitude makes it easier to approach customers and keep their attention until you have concluded the sale. Positivity can be contagious. And if you're going through a tough time, do your best to overcome it so it doesn't negatively affect you and your work. Talk to someone, be it a friend or a professional, exercise, try meditation and deep breathing. Keep your end goal in mind.
8. Be resourceful
Real sellers are able to change gears if a sale does not go as they imagined. Instead of just taking "no" as an answer, they will try a different approach using their creativity and imagination. Learn to read faces. If your approach didn't work within two minutes, change. Prepare for your twists and turns. Do not be afraid to practice your pitch in the mirror at home. It may sound silly at first, but it will become more natural over time.
9. Be passionate
A top seller really likes his job. Most importantly, the seller will be passionate about the products or services he sells. If they agree with a brand message, vendors can enthusiastically share this vision with potential customers and customers, which will create a relationship of trust. It is essential qualities of sales Person
10. Ask questions
Successful sellers don't just ask questions that focus only on information leading to advice. They want to know what the implications are. The most important questions often do not concern the product. Developing this report will help you help them and be better at your job.Desiring qualities of sales Person
11. Be independent
Since most sellers work on commission, they must be motivated. Your boss shouldn't have to be there to make sure the job is done. The most efficient seller is a self-motivator, building to do more.
12. Manage your time well
Here is a simple equation: more selling time increases sales and compensation. The best sellers manage their time effectively, for example by finding the best routes from place to place, so that they have more opportunities and time to spend securing a sale. If a place or person takes too long, or longer than expected, you can catch up elsewhere. This is the most desiring qualities to be a good sales Person
13. Exceed
You have to go beyond the simple performance that is expected of you. Real sellers don't know when to stop and usually ask for more. More people, more customers, more work, more money. But make sure you always favor quality over quantity !
14. Be kind
A good seller has no problem getting along with others. And, more importantly, they like to meet new people and realize the power of networking. It is not surprising to see vendors involved in so many local events and organizations. Most sellers love and are stimulated by being surrounded by people, and it shows.
15. Be ready
Vendors are always prepared and love action. They must be ready to face all the situations in which they find themselves with force and know how to successfully manage the present moment.
Above are the qualities to be a good sales Person. If you have these qualities no-one can stop you.